Effy Jewelry Designer Trunk Show at Macy's
Hey Gorgeous,
Mark your calendar for this epic trunk show!
Effy Jewelry Trunk Show is coming to Macy's in Ross Park Mall in Pittsburgh. For one day only — July 26th, 2017 — over a thousand unique styles will be on display.
When Macy's reached out to me about a jewelry collaboration, I was very excited. You know I wear lots and lots of jewelry and had a long-standing collaboration with an online jewelry retailer before. Besides, what girl doesn't like a little bling? 😉
But there are so many jewelry companies out there. Craftsmanship and quality can vary quite a bit between them.
So I had to do some research before I set out to collaborate with our local Macy's on this. Let me share a little trick with you: when investing in precious jewelry, do a search for that brand on eBay for sold items. If eBay shows a lot of demand for used jewelry pieces by that designer, you have your answer on one of the most important questions to ask before investing in precious jewelry: resale potential.
This doesn't necessarily mean that you will be reselling your jewelry. Resellability is really a seal of approval that helps you understand its value.
Effy Hematian — the founder of the Effy Company — came to New York in 1979 with his wife, his son, and experience as an electrical engineer. Jewelry was the passion he came to pursue though, and 30 years later, his products are sold by leading retailers around the world! And for good reason: Effy's brand is known for its eclectic abundance of jewelry collections.
Effy's lifelong muse is a panther; its power and beauty inspire his amazing designs.
Ask to see this ring when you visit the trunk show! It was love at first sight for me. 😍
Effy makes the majority of its pieces right here in the good ol' U.S.A., in New York City. Local manufacturing operations allow for better oversight of the designs and quality.
And the same care is given to the poetic naming of each collection, too: Espresso — featuring black diamonds; Blue Velvet and Red Velvet — featuring sapphires and rubies. Effy's stunning designs are even trending with a few celebrities in Cosmopolitan, Harper's Bazaar and Star magazines. Look 'em up. 😉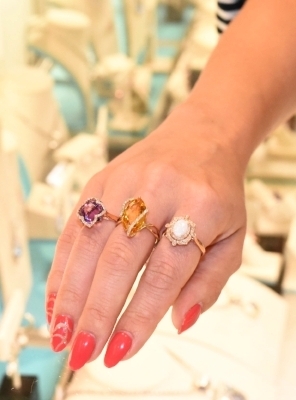 How great is it all the beauty of the Effy Trunk Show is coming to Pittsburgh? It's well worth checking out if you ask me! The pieces I got a chance to play with at the preview were mesmerizing. And I can't wait to see the full collection at the trunk show on July 26th, 2017!
But if there is one thing I know ahead of the trunk show, it's that the panther ring found its home... in my heart. 😊
See you at the trunk show on Wednesday, July 26th, Gorgeous!
Sincerely yours,
Anna